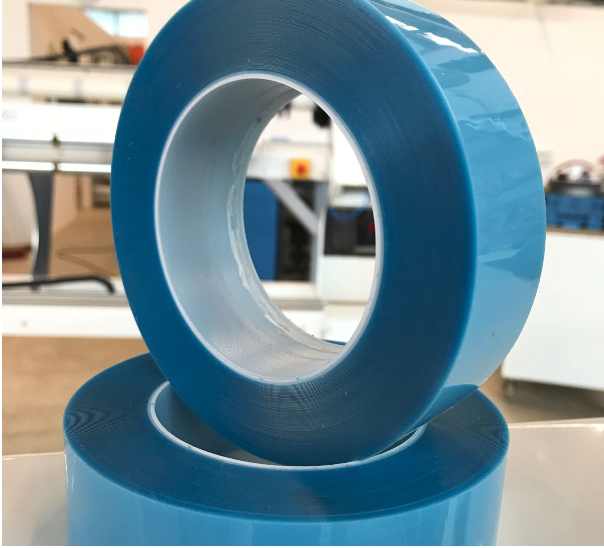 A clean cut edge is the be-all and end-all when cutting off foils on a roll. But how do you achieve that? Here are some recommendations for daily practice.
Cut like a pro – it's not that difficult. Once you have understood a few basic connections. In this episode of our parting series, we take a closer look at seven parameters. They have a major influence on whether the cut edge frays, the roll is crushed, whether dust or glue residue forms – or not.
The following deals with these topics:
Rotational Speed: Fast isn't always better
Immersion speed in the medium: high control instead of high pressure
Special case standing blade
Blade Lubrication: Whenever possible
Blade Temperature: When in doubt, pause
Ambient temperature: Lubricate a lot when it is hot
Winding tension of the medium: It's better to wind it again
1. SPIN SPEED: FAST ISN'T ALWAYS BETTER
A higher rotational speed is not always the better choice. The faster the roller rotates, the more often the knife will pass a spot that has already been cut. This creates more friction, which means more heat and tends to create more dust and more fringes as the knife repeatedly scrapes along the material that has already been cut. But: The slower the roller is turned, the less torque the motor develops – until the point is reached where the blade can no longer penetrate through tough material.
Our recommendation: A good middle ground for NEPATA cutting machines is a setting of 50 to 70 percent of the maximum speed.
2. IMMERSION SPEED IN THE MEDIUM: HIGH CONTROL INSTEAD OF HIGH PRESSURE
Of course you have to have a certain amount of strength. However, you must never press the cutting unit down too hard. That would crush the material. In addition, the blade can even bend with great forces. This would contribute to fringing. However, if you are too timid and do not have a firm grip on the stop lever, you run the risk that the blade will wobble when it comes into contact with the roller and thus destroy the material.
Our recommendation: Leisurely pressure with high control over the cut-off lever. This requires a strong hand, not necessarily a strong downward pressure. If you notice that the whole thing is getting stuck, the turning speed has to be increased a little so that more torque is available. A moderate, fast speed is recommended for many media (flock foil, flex foil, laminating foil), and a slower speed for other materials (e.g. magnetic foils, reflective adhesive foils). Tests and experience are required here.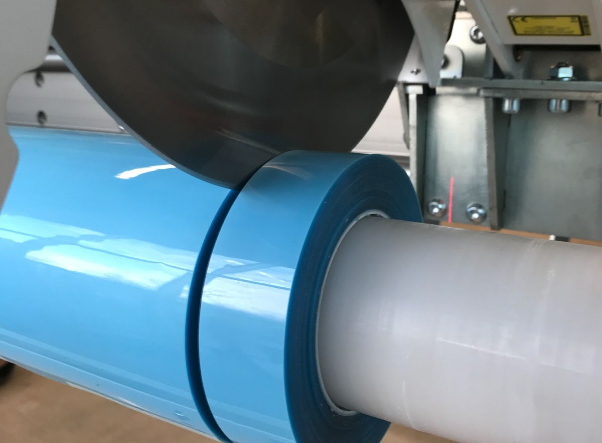 3. SPECIAL CASE STANDING BLADE
As a rule, cutting with a moving blade is recommended, ie it rotates passively on the material. This creates less friction and therefore less heat in the medium, the cutting performance is evenly distributed over the blade circumference. However, there are media that cannot be cut with a live blade, e.g. B. Foam adhesive films. In this case, the blade of the NEPATA cutter can be blocked. The stationary blade ensures greater cutting power in the system. But there is much more friction. Again, this generates heat, the glue can smudge.
Our recommendation: With small diameters, the problem with the upright blade is not so important. Large bands that require a stationary blade should remain the exception with this type of parting system. Don't run too many operations in a row here. In between, the blade can be rubbed clean from time to time by cutting a less demanding foil or an empty cardboard tube. In addition, the blade position should be changed from time to time so that it is not always cut in the same place.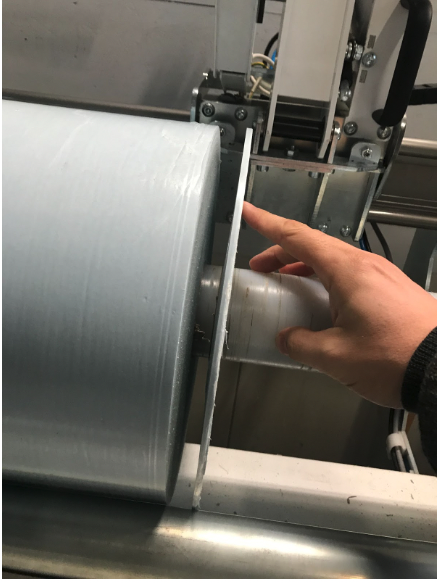 4. BLADE LUBRICATION: WHENEVER POSSIBLE
Lubrication is very important when cutting with many media. It reduces friction and thus heat generation. Less glue residue builds up on the blade. There are not only oil-based lubricants, but also water-based ones. These are useful if you fear that the silicone could damage the adhesive strength of the film. With the automatic jaw lubrication system developed by NEPATA, very small amounts of lubricant are sufficient, so that we have not yet had any negative experiences in daily practice.
Our recommendation: Use lubricants wherever it is not harmful!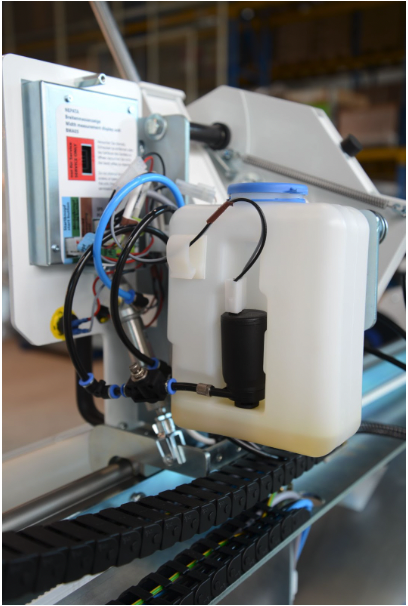 5. BLADE TEMPERATURE: WHEN IN DOUBT, PAUSE
Each cut increases the temperature of the blade. If a large number of cuts are made in rapid succession, the blade can become so hot that the cutting pattern is impaired. More and more adhesive can escape from the cut edges of the film, up to the point where the individual layers fuse.
This is more likely to happen with tough materials, especially when the blade is used in an upright position. In extreme cases, the blade may be deformed. However, we are talking about hundreds of quick cutting processes here, for example when producing very narrow strips.
Our recommendation: After several cuts, give the blade a break so that it can cool down sufficiently.
6. AMBIENT TEMPERATURE: LUBRICATE A LOT IN THE HEAT
Most foils are more difficult to cut the higher the general temperature or the temperature of the medium. This applies in particular to adhesive films: Adhesives change their viscosity when heated and smear more easily. This is particularly important in non-air-conditioned rooms in the summer, when it is sometimes 35 degrees Celsius in the hall.
Our recommendation: slow down a little at higher ambient temperatures and always lubricate carefully.
7. WINDING TENSION OF THE MEDIUM: IT'S BETTER TO WIND IT AGAIN
The winding tension is of very great importance. Loosely wound media with loose, sliding wraps is generally much harder to cut than tightly wound rolls (or linerless media). The loose windings lead to undulations between the layers. The displacement results in 100% fringe formation. But be careful: too tight windings are also problematic, since the roll then becomes too compact to be able to cut through the individual layers at all.
Our recommendation: If such material comes to the machine, it is better to rewind it properly. Rewinding on a NEPATA machine under controlled web tension ensures that the winding tension is perfect for beautiful parting results.
EXTRA TIP: TRAINING AND VIDEO "CUT OFF LIKE A PRO"
Of course, there are other parameters that influence whether the cutting edge is clean or whether there are problems with the parting. If you want to turn your employees into real parting professionals, we are happy to offer training on NEPATA parting machines and converting centers with parting units.
To learn more about NEPATA converting equipment or automation of your converting operation contact Supply55, Inc. at 734-668-0755 or visit www.convertingcenters.com.